Talking Gas Safety tickets

Take gas safety seriously with talking tickets
We have recently has launched a new product to help tackle gas safety issues; the talking gas safety ticket.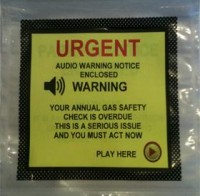 The new ticket is an evolution of our talking parking ticket, and is designed to be placed on a tenant's front door to inform them that their gas safety inspection is overdue, this is important for any landlord. The ticket helps to reduce the tenants risk of carbon monoxide poisoning and other gas related accidents by ensuring that required gas safety inspections are carried out on all relevant appliances in a tenant's property.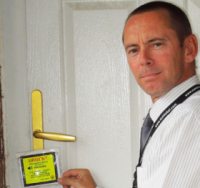 The ticket contains an audio module that plays a pre-recorded message supplied by the landlord, the message is played when the tenants press the play button on the ticket. The talking ticket, which looks like a standard penalty notice lets tenants know that their annual gas safety check is overdue.
The highly visible yellow ticket is extremely easy to use as it comes with an easy-peal self-adhesive back to make attaching it to front doors a breeze. It is also waterproof to make sure it will survive bad weather. The landlord, has the option to provide a message in an audio file, lasting a up to 25 seconds long, or they can give us instructions as to what they want the ticket to say and we can record the message. Batteries are included with the talking ticket.
The talking gas safety ticket is the latest addition to the company's range of low cost landlord self-regulation solutions. We are always looking for ways to innovate in this sector and we have become a UK leader in landlord self-regulation.