Parking enforcement - FlashPark, the solution to your parking control problems
Whether you run a business, own land or property, or you are a local or district council, having to deal with cars parked on your private property can cause major headaches. This is where Flashpark and its unique car park enforcement service come in.
Parking problems
We all know car parking spaces can be difficult to come by in some areas particularly in towns and city centres. As a result, those of us running small businesses, or with private property or private car parks to protect, have to deal with drivers who think they can get away with parking illegally.
By signing up to Flashpark's parking enforcement service, it's easy to stop these problem parkers in their tracks.
The whole process couldn't be simpler and, if that wasn't enough, the issuing of parking enforcement tickets is free. Once we have sent you our welcome emails, we will post our parking control signs to the address you provide. These signs are rented from us for a small annual fee.
Once you have put these signs up in a clear place in your car park or in the area you want to protect and have sent us some images of the signs, you are ready to start parking enforcement.
The main thing to remember when embarking on car park enforcement is to take a good picture. Flashpark is unable to issue a parking charge notice (PCN) without a picture of the offending vehicle, with its registration plate and at least one of your parking control signs visible.
We recommend that if the driver of a car returns while you are taking the picture that you explain that they have parked on private property and that if they do so again, they may be sent a private parking enforcement notice.
Once we have received and approved your picture, Flashpark will use its connections with the DVLA to obtain the name and address of the driver who has illegally parked on your private property. We will send them a parking enforcement notice that will outline the offence and state the Parking charge is due as a result of a breach of contract between the motorist and the landlord. The fee is due within 14 days. We make our money when these parking charges are paid and, therefore, the rest of the service is free of charge. A parking charge notice (PCN) can be cancelled at any time by the issuer for a fee of £15 this ensures a warning can be given first.
Flashpark shares info with local authorities and police forces when requested and scans each parking violation with the Police stolen vehicle register
For more information about how the Flashpark parking control service works click here, or sign up here.
Unique parking enforcement service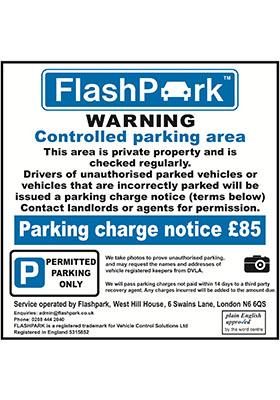 The car parking enforcement service that Flashpark provides is unique in that every single enforcement notice sent is backed up with a photograph of the offence. This reduces the number of disputes and increases the number of notices that are paid on time.
Another selling point is that Flashpark's service does everything for you apart from taking the picture. We look after the difficult jobs like tracking down the drivers, issuing parking charge notice (PCN)s and collecting payment so that you don't have to.
Many private car park owners were left disappointed by the decision to ban clamping, but with Flashpark, there's still an easy way to help protect your private car park from careless parkers.
Parking signs
Flashpark is always raising the standards and we are the first company to have our sign accredited by a plain English organisation this is necessary as most criticism of parking enforcement companies is the signs are not visible or easy to understand
POPLA - Parking on private land appeals service
This service is set up and paid for by the parking enforcement industry. When a parking control contractor rejects an appeal they must give the opportunity to the motorist to challenge their decision by an independent ombudsman. There isn't any lawful ruling other that a recommendation as to whether the driver was in the right or wrong.